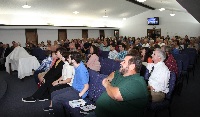 We know what it is like to go to a new church, so here are a few things about us:
We use the Bible at lot, and can provide you with one, or you can use our free WiFi with an Internet Bible. The free Logos app is a good choice for following our sermons.
We never pass an offering plate, nor do we try to embarrass anyone.
You are free to keep your children with you, but we have an excellent nursery for well babies and toddlers through age 3, and a private room for nursing mothers.
We like to sing and talk, so you are welcome to stay after the service to get to know our people and make some new friends.